Cabanas / Spa
Rooms & Pricing
THE GAZEBO FACTORY, we are excited about our new line of Cabana Rooms.
We feel they are the best on the market. For nearly 20 years we have built a full line of gazebos for the spa industry and have now created the ultimate spa enclosure so versatile it can be used as a pool house or an extra room for crafts, office, game room, exercise equipment, or a secluded retreat. Click on any picture below for a larger view.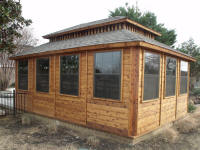 Constructed much like your house with 2 x 4 framing, insulated screened windows and a shingled roof, our cabana's can provide that "feeling of being outside without actually being outside" you've been looking for.
Although we have standard sizes, our cabanas can be built nearly any size in rectangle, square or octagonal shapes.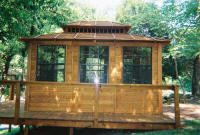 We offer optional decks/floors, window and door placement and roof styles to fit your needs.
For example, the cabanas shown here are our 10′ x 14′ rectangle featuring stained cedar siding and bronze frame windows in every wall section with our beautiful 2 tier roof-mounted to our wood deck.
There are companies that offer a similar product in a kit… in a kit that costs twice as much as our cabanas cost… INSTALLED!  Sunroom and remodeling companies are not even close.
Please call or email us for our earliest installation date!
Cabana Basic Pricing
10′ x 14′ – $ 7600
12′ x 16′ – $ 8800
14′ x 20′ – $10,400
Add our beautiful 2 Tier roof option for $400.00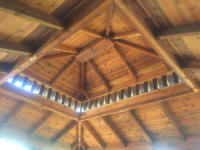 We build custom sizes and offer custom window & door placement to meet your needs.